Want to sit comfortably without making the room look full or messy? Try using a modern minimalist chair!
This one chair has a simple, elegant design, and of course it is very functional. This is perfect for those of you who have a minimalist or modern concept.
So, to make it clearer, I want to give you some ideas for examples of modern minimalist chairs that can make your room look more stylish and comfortable.
Come on, just take a look at the ideas!
Minimalist Folding Chair
A minimalist folding chair is ready to accompany all your needs!
Starting from hanging out casually on the terrace of the house , eating with family in the dining room , to adding seats when many guests arrive.
The design of natural wooden legs with a simple round seat makes this chair easy to match with your home decor style.
Not only simple, folding minimalist chairs are also very practical!
When not in use, you can fold it and store it easily without taking up much space.
So, you don't have to worry anymore if your room is small or you want to save space, minimalist folding chairs are the solution!
Chairs Without Armrests
Who says minimalist chairs have to be complicated? There are simple and contemporary chairs without armrests made of wood or plastic.
This chair is really suitable for hanging out in cafes , study chairs , or eating at the dining table .
The material is simple and the design is minimalist, so this chair won't make your room look full or messy.
Because it doesn't have armrests, this chair is also more flexible and lighter.
You can easily move it everywhere and the storage doesn't take up much space either.
So, if you want to fill the room in a minimalist style, this chair without armrests can be the right choice!
Modern Minimalist Chair Gallery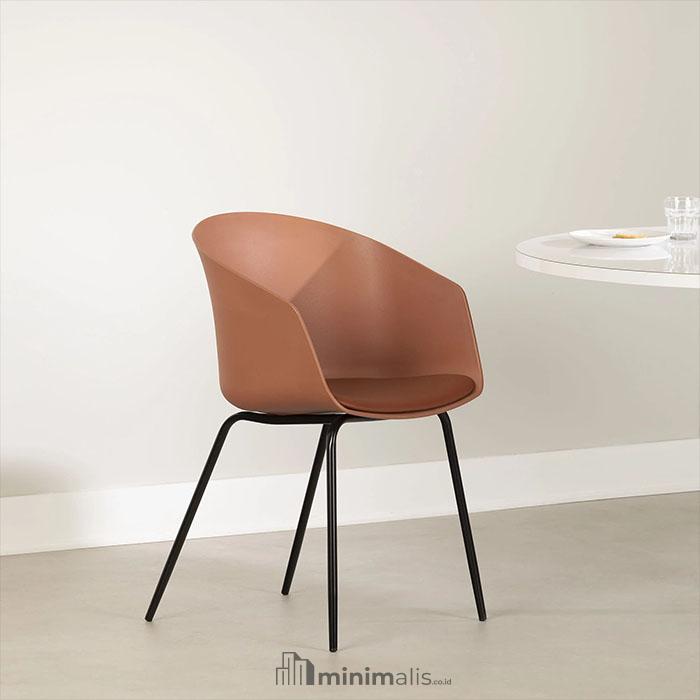 Chair With Curved Backrest
There are modern minimalist chairs that can provide comfort when sitting, one of which is a chair with a curved back.
The curved backrest design provides comfort and supports posture while sitting.
It is perfect for your terrace, garden or lounge where you want to enjoy the atmosphere comfortably.
This chair also has a unique and contemporary design, so it can give a more aesthetic and stylish impression to your room.
With a wide variety of colors and materials available, you can choose a chair with a curved back that matches the theme and concept of your home.
Modern Chair Model Sofa
There is a minimalist chair that can make you sit comfortably while giving it a modern look, namely a sofa model chair .
This chair is designed to be soft and comfortable like a sofa, but the size is smaller so it is suitable to be placed in a living room or family room that is not too big.
You can choose fabric or leather according to your wishes, and add accents with pillows or other decorations to give a livelier impression.
This minimalist sofa model chair is also suitable for use in the study or bedroom, so you can sit while working or relaxing in a stylish and elegant style.
A minimalist sofa model chair combined with a wooden table and a chandelier can create a warm, modern and cozy look in the room.
High Model Wooden Chair
A high model wooden chair is a chair that has tall and slender legs, made of teak or pine wood.
This chair is perfect for placing on a bar table , kitchen , or your dresser which can make the room look smaller.
With its minimalist design, a tall wooden chair can make your room look neater and more modern.
The advantages of using this high model wooden chair include making you more comfortable when sitting on it because of its higher position.
Apart from that, this chair is also suitable for those of you who have limited space because the slim legs of the chair can make your room more spacious and not look full.
So, for those of you who want a minimalist and modern look in your room, a tall wooden chair can be the right choice.